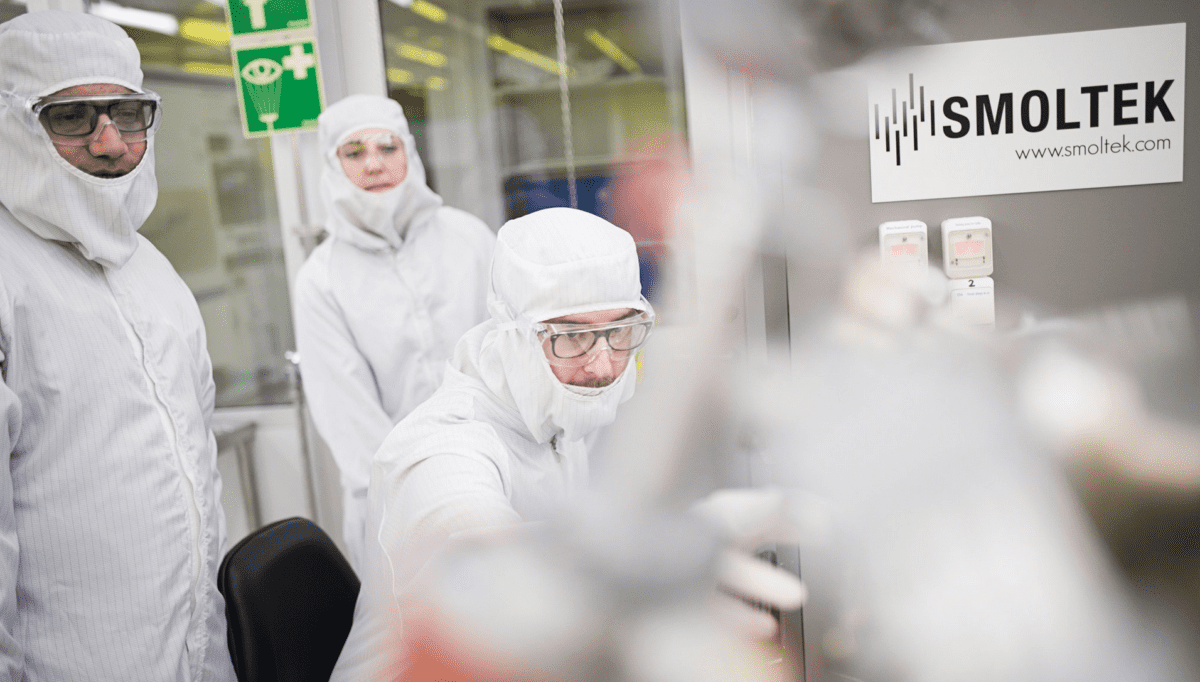 Smoltek reveals a fivefold increase of capacitance performance
Smoltek reveals groundbreaking capacitance enhancement of its CNF-MIM™ solid state capacitor technology. This supports higher performance and continued miniaturization of semiconductor components "beyond Moore".
May 16, 2018
Smol­tek reveals con­sid­er­able improve­ment for its CNF-MIM™ sol­id state capa­cit­or concept under devel­op­ment. The Smol­tek innov­a­tion team has man­aged to increase capacitance/​area by 5 times com­pared to what has been pre­vi­ously demon­strated by the company.
This con­sid­er­able improve­ment puts Smoltek's CNF-MIM™ concept in the capacitance/​form factor sweet spot for het­ero­gen­eously integ­rated cir­cuits – between tra­di­tion­al MIM capa­cit­ors and so called Trench Sil­ic­on Capa­cit­ors. These sig­ni­fic­ant improve­ments have been con­firmed by sev­er­al sets of meas­ure­ments where dif­fer­ent capa­cit­ors from sev­er­al inde­pend­ent pro­duc­tion runs have been measured.
"This is in line with our optim­iz­a­tion roadmap and acknow­ledge the com­pet­it­ive­ness of the Smol­tek CNF-MIM car­bon nan­ofiber enhanced solu­tion versus tra­di­tion­al MIM capa­cit­or real­iz­a­tions", says Anders Johans­son, CEO at Smoltek.
"The res­ults achieved by the team really put Smol­tek on the world map in terms of integ­rated pass­ive device tech­no­logy and shows that our capa­cit­or tech­no­logy is not only dis­rupt­ive but extremely rel­ev­ant for future het­ero­gen­ous integ­ra­tion schemes", says Vin­cent Des­mar­is, CTO at Smoltek.
Smol­tek will be present at ECTC 2018 in San Diego, Cali­for­nia May 30 – June 1 and will be happy to meet up and dis­cuss the advant­ages of this tech­no­logy more in detail.
About Smoltek
The Com­pany was foun­ded in 2005 and is a pub­lic com­pany based in Gothen­burg, Sweden. Smol­tek spe­cial­izes in devel­op­ment of nano­struc­ture fab­ric­a­tion tech­no­logy to solve advanced mater­i­als engin­eer­ing prob­lems. Smol­tek has a port­fo­lio of 65 pat­ent assets, of which 48 are gran­ted today. The mar­ket seg­ment where Smol­tek is act­ive is called Advanced Pack­aging and is estim­ated by Research & Mar­kets in a mar­ket update from Septem­ber 2017 to grow with an aver­age of 7,19 per­cent per year (CAGR) dur­ing the peri­od 2016–2022 and have a mar­ket value of 40,33 MdUSD by year 2022.
Sign up for our newsletter!
Your data will be handled in compliance with our privacy policy.
Related news and insights