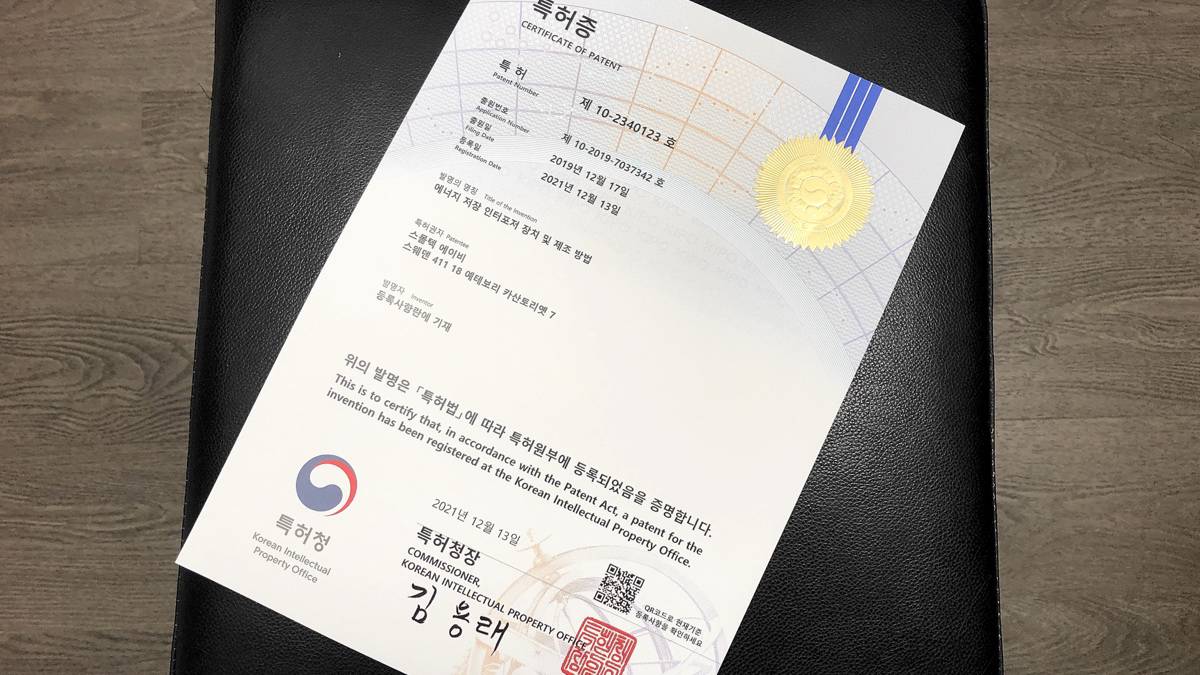 Smoltek patent No. 71 now granted
Smoltek is awarded a new patent in Korea. This patent is the fourth one of the patent family in the direction of CNF-MIM based compact energy storage on interposers. This also means that our global patent portfolio now comprises 71 granted patents.
January 18, 2022
Smol­tek's 71st pat­ent has been gran­ted in Korea and is cov­er­ing the inven­tion and man­u­fac­tur­ing of extremely thin energy stor­age devices embed­ded in an inter­poser. Our energy stor­age device con­cepts may take many forms e.g. dis­crete, integ­rated, or it can take the form where the end res­ult is an inter­poser with CNF-MIM capa­cit­ors embed­ded in it.
"This is the fourth gran­ted pat­ent from our second wave of pat­ent fil­ings that pro­tect our CNF-MIM capa­cit­or tech­no­logy and vari­ous use cases for the same, primar­ily in the area of semi­con­duct­ors and elec­tron­ics", says Karl Lundahl, VP Product Man­age­ment and Indus­tri­al­iz­a­tion at Smoltek.
Smoltek's inven­tions in the area of semi­con­duct­ors and elec­tron­ics facil­it­ate integ­ra­tion of extremely low-pro­file sol­id state energy stor­age devices, such as CNF-MIM capa­cit­ors, closer to the con­nec­tion points and power rails of the act­ive chips. The CNF-MIM-tech­no­logy offers the smal­lest form-factor for integ­rated high-per­form­ance capa­cit­ors by provid­ing very high capa­cit­ance per area at a frag­ment of height com­pared with today's technologies.
Inter­posers are fre­quently used in today's advanced pack­aging archi­tec­tures for integ­rated cir­cuits,. The present pat­en­ted con­cepts are built on the need to improve cir­cuit per­form­ance by enabling a com­pact energy stor­age to be fab­ric­ated and embed­ded into an inter­poser substrate.
Smoltek's pat­ent port­fo­lio now glob­ally com­prises 71 gran­ted pat­ents.
Sign up for our newsletter!
Your data will be handled in compliance with our privacy policy.
Related news and insights